Eric Poll, a paramedic and emergency room nurse in Nova Scotia agreed to share his experience with CBS supporters. He made these comments as the spread of COVID-19 accelerated in April. Pray for him and his colleagues across the country. Even if the pace slows, the price they have already paid is high.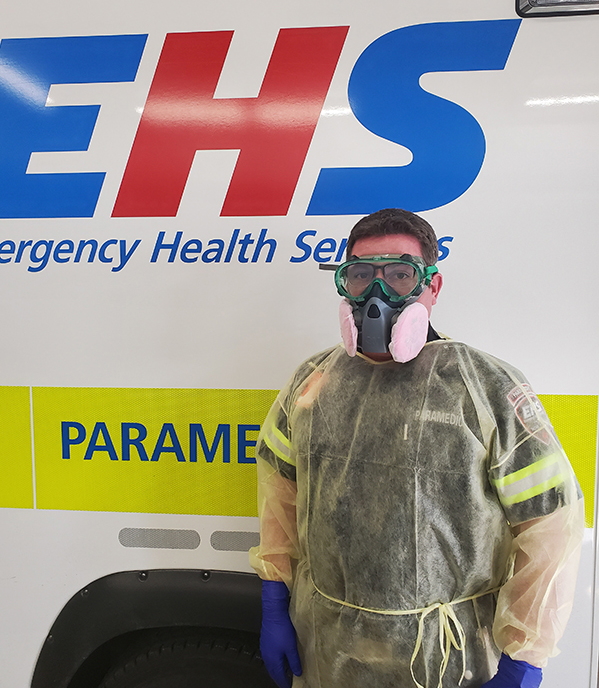 I have seen such anxiety and fear amongst my colleagues and in the general public. I started working as a paramedic at the time of the SARS epidemic but nothing compares to this. Having seen the breathlessness and the severe headache from COVID-19 I tell you this is not something that anyone wants to go through.
COVID-19 changed the way we respond. Instead of "help first – ask questions second" we now must ask several questions before we help – "Have you been out of the country? Have you been with anyone who has COVID-19?" Even for a cardiac arrest, the questions come before CPR. Losing those moments is hard on our hearts, but if I get sick I can't help anyone.
Further, we are not able to comfort and support people the way we want. We look scary when we show up– goggles, medical gowns with a shield, and a respirator on our head with large apparatus attached, that makes our voices sound like we are talking from the bottom of a well. We are also completely fatigued, both from working long hours and the stressful conditions. Even in our calm state, many of us are panicked or full of fear.
Meanwhile, we still treat regular medical issues, and there has been a jump in mental health calls, suicides and violence. The emergency rooms operate with a hyper vigilance that is exhausting, with everyone knowing that the next patient might be life altering for them as a health care worker and their family.
Every night when I go to bed I pray-pray-pray – that God will relieve my fear. I spend my time in the book of Psalms. I never was that drawn to the Psalms, but now I understand them. Psalm 91 is especially important to me now. I have it taped to my locker door. I pray over my patients and sometimes pray with them. I see many who are turning to faith for comfort. People are more open spiritually – families are together and forced to interact with each other. More scripture reading and prayer is happening.
I don't want to hear any more sirens. I want to escape from it all. I turn to the scriptures to find comfort and quiet. My hope comes from God, who gives me the strength to face each day. "I can do all things through Christ who gives me strength."
Eric Poll, Nova Scotia
Paramedic and Emergency Room Nurse with 17 years in this role
Whoever dwells in the shelter of the Most High
   will rest in the shadow of the Almighty.
I will say of the LORD, "He is my refuge and my fortress,
   my God, in whom I trust."
– Psalm 91:1-2
Watch Canadians proclaiming the Words of Psalm 91: