CANADA: Scriptures for Christian Kids Camps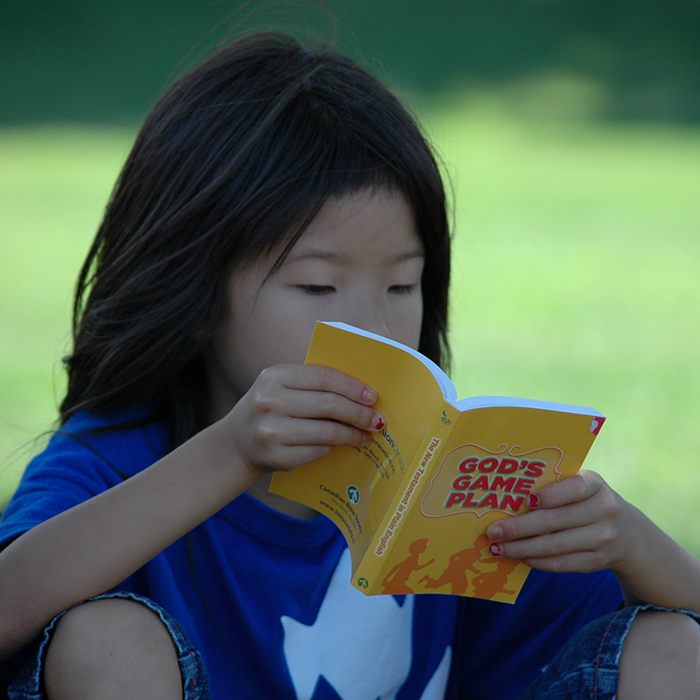 Each summer, thousands of Canadian children and youth attend summer camp. Many of the younger children will receive a free copy of the Adventure for Life Bible, designed especially for them. And teenagers will receive a free copy of the Good News Interactive Youth Bible.
The Canadian Bible Society partners with various Christian organizations to help reach children and youth with God's Word in summer camps. Some of the children who attend these camps are considered "unchurched," and camp Is where they learn about Jesus and the Bible for the first time.
The Adventure for Life Bible includes the entire Scriptures in an easy-to-read New Living Translation as well as sections on how to read the Bible, how to pray, what the Bible says about forgiveness, great Bible chapters, where to find specific topics or stories, and what to read in specific circumstances.
The Good News Interactive Youth Bible covers big issues such as bullying, family, identity, school, exams, etc. and includes hundreds of interactive elements throughout the Bible to encourage a deeper engagement with the text.
Are you part of a Christian Camp ministry? The Canadian Bible Society wants to partner with you to help provide special Bibles for children and youth, so that they can learn about Jesus. Complete the form to to let our team know you are interested.
Hope for the Next Generation
Every year, we receive encouraging testimonies from young people who have met Jesus thanks to Bibles you have helped provide. The staff of Dauphin Bible Camp in Manitoba shares the story of a girl who was given a Bible:
"She was so happy to have been given a Bible. One day when the speaker was telling kids to go to a certain verse, we came up to her and asked if she knew where the verse was, and she said, "That's okay, I'm just reading." She was glued to her Bible and just soaking it up."
As kids receive their own Bibles in Summer camps, they have the opportunity to learn how to read the Word of God,with the support of volunteers and staff: "Lots of campers did not already own a Bible and so were taught how to look for verses, the reason for the Bible, why we read it, who wrote it. They left camp with a little bit of an understanding of what a Bible was! It was beautiful to see so many kids receive something many adults wish they could have. On behalf of the team at Dauphin Bible Camp, we thank Canadian Bible Society for their ministry and for providing Bibles."
"The CBS Bibles were very helpful during our kids' camps. It was wonderful having the Bibles available to use for Bible stories or just in talking one-on-one with children, and to know that the Bibles were at a language level they could understand. We were able to give one to a young camper in particular from a non-Christian family who made a profession of faith."
~ A camp organizer from Saint-André-d'Argenteuil, Quebec
With a generous gift today, you can help connect children with Jesus and His Story.