CANADA: Scriptures for Newcomers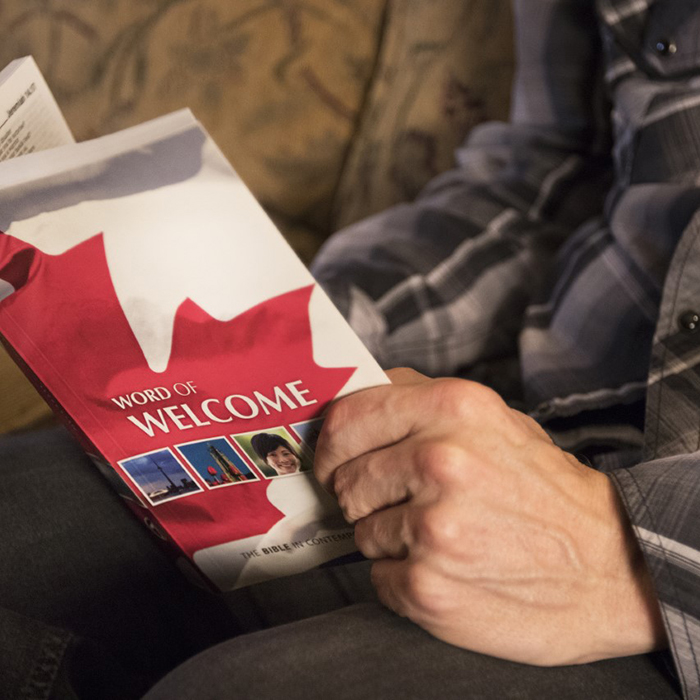 Many newcomers to Canada face challenges as they adapt to their new home. They may experience homesickness, cultural adjustments and, at times even discrimination and abuse.
The Canadian Bible Society (CBS) provides the much-needed message of hope, peace and strength from God's Word to new immigrants and refugees. We partner with volunteers, churches and ministries that reach out to newcomers, to equip them with encouragement, comfort and hope from the Scriptures.
Approximately 8 million immigrants (permanent residents) live in Canada at any given time – roughly 21.5% of the total Canadian population.
These immigrants come from 80+ different countries.
Since 1955, CBS has been offering free Scriptures in English and French to new Canadians citizens at Citizenship ceremonies across the country.
CBS offers Scripture resources to Canadian newcomers. Word of Welcome Bibles are made available to church-based ESL/FSL classes, to Bible study groups serving newcomers to Canada and at Citizenship courts. The Bible is in the easy-to-understand Contemporary English Version and includes many helpful resources.
"Many have never opened the Bible, and some come from a "closed" country where freedom to worship and read the Bible Is not permitted. They are learning that God loves them, and their journey of understanding Jesus and his message begins."
~ Mary Ellen Tierney, director of Barnabas, Victoria Hills, a ministry to welcome newcomers.
International Student Ministries Canada
Watch the video to see the impact of this ministry.
Help more newcomers to Canada hear God speak through His Word.