KAZAKHSTAN: Large-Print Bibles for the Visually Impaired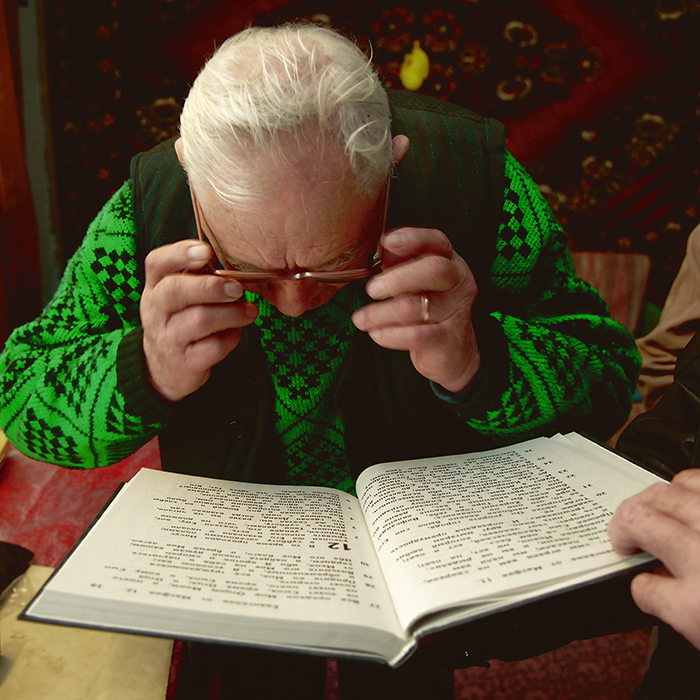 There is an entire generation of people in Kazakhstan seeking hope, assurance, and comfort from God's Word, and we do not have enough Bibles to meet the demand. Those with visual disabilities are amongst the hardest hit.
Tragically, the distribution of Scripture in Kazakhstan is severely limited by the authorities, and large-print Bibles in Russian are amongst the most difficult to obtain. This lack of access to God's Word is a serious threat to the spiritual health of those with visual disabilities, and many have fallen into discouragement and spiritual depression.
Over 20% of Kazakhstan's older population have significant problems with their sight and cannot read God's Word.
This project reaches 45,000 visually impaired people, 70% of whom use the opportunity to share the Good News of Jesus with their families and peers.
30% of the target audience will hear God's Word for the very first time.
Bringing God's Word to the Elderly and Visually Disabled
Large-Print Bibles for the Visually Impaired supports people with visual disabilities by providing them access to the Good News of Scripture.
This project also reaches children and youth in remote villages with large-print Bibles, teaching them to engage with God's Word and share it with their peers.
Many visually impaired people who are not believers are turning to the Scriptures to find wisdom and guidance for their life. By reading God's Word, they are beginning to think about and pray to God for the first time.
"My life has changed dramatically since that first encounter with the Bible, and I want to serve Him now by bringing His Word to other people."
~ Erasyl, Kazakhstani follower of Jesus
The Bible Society of Kazakhstan has been inundated with requests from individuals, local medical facilities, and nursing homes for large-print Bibles. Your generosity today will help sow the seed of God's Word amongst Kazakhstan's elderly and visually disabled peoples.