Christian Faith and the Role of Scripture in Canada
The challenges of the pandemic have exacerbated the issues facing the church.
The current moment has been daunting for congregations, denominations, and the organizations that support them. While the shape of the current challenge is new, Christianity in Canada was in a state of decline well before Covid-19 shuttered church doors. 
Each year, fewer people identify as people of faith
Attendance at religious services is plummeting even faster
To better understand the state of Christian faith and the role of Scripture in Canada today, CBS embarked on a research project. Learn more about the key outcomes of this research that included literature study, interviews with key leaders, and dialogue circles with Christian leaders in Canada.
If the download doesn't automatically start in a few seconds, please disable/turn off pop-up blockers in your browser settings.
Religious Attendance in Canada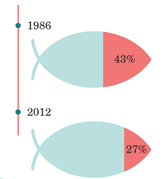 What factors are contributing to the realities facing the church today?
What hope is there for the church today?
Explore:
Faith By the Numbers
The Current Social Context
The Bible in the Current Social Context
Resistance to the Bible
Opportunities for Scriptural Engagement Created by the Current Social Context
Can We Help People Rediscover the Wonder of the Book?
"The Biblical tradition is clear: It is in dying that we are reborn. Rebirth also awaits the church."