Wondering what to do with your used stamps?
The Canadian Bible Society collects donations of used stamps.
Here's how our Stamps for Freedom Program works:
Stamps collected from donations across Canada are combined to create charity boxes and are sold to stamp collectors and vendors.
The revenue generated from the stamps allows CBS to purchase Bibles for the Canadian prison ministry.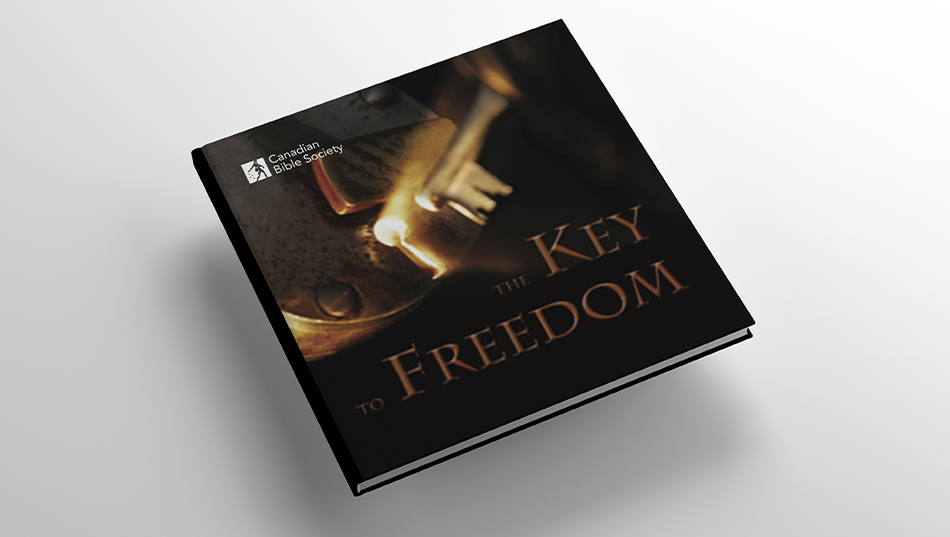 10 lbs of stamps
= approx 6 Bibles for distribution
Donate your used stamps today to help provide the Key to Freedom Bible to men and women in prison.
Instructions for collecting
Keep the stamp on the envelope
Cut out the stamp leaving a 1/4 inch border around the entire stamp
Ask your church congregation to collect their stamps
Make a box as a collection vestibule
Ask to put an announcement in the bulletin about the program and to let them know how to collect and where the drop off location is
Ask the groups within the church (i.e. Women's Groups, Seniors Groups, Sunday School) to collect as a special ministry
We also accept personal collections that are already in books, binders, etc.
If mailing to CBS please ask for Stamps to be put on the package vs. the electronic metering – we will collect those stamps and add them to the boxes.
Stamps – from Buffalo to Toronto
SM* drove down from Buffalo, NY to donate 12 boxes and one bag full of used stamps for CBS' Stamps for Freedom Program. SM collects the stamps from 60 plus church groups called the Lutheran Women's Missionary League. She has collected and donated stamps before, but ever since the pandemic started, she couldn't. Now since the border has opened, she was able to bring the stamps to CBS.
*(name in initials for privacy.)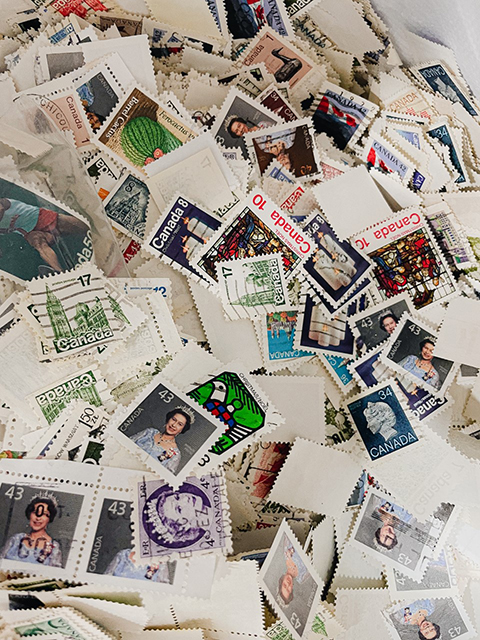 PROVINCE
DROP OFF CENTRE
Alberta

Edmonton 
Bethel Lutheran Church
298 Bethel Drive
Sherwood Park, AB T8H 2C5
Organizer – Marilyn Jansen
(780) 467-7412 / (780) 417-7775 
Hours: Mon – Thurs 8-4 / Fri 8-3

Manitoba
Winnipeg


Canadian Bible Society – Winnipeg Office




952 St. Mary's Rd




Winnipeg, MB  R2M 3R8


(204)257-8835

 / 

(855)265-9977
Ontario

London
Organizer: Charles Lee
705 Wonderland Road N. Unit 3
London, ON N6H 0H8
(519) 435-1885

Toronto
Canadian Bible Society – Toronto Office
10 Carnforth Road
Toronto, ON M4A 2S4
(416) 757-4171 / (800) 465-2425

Uxbridge
Brian J. Evans Financial Services
38 Toronto St. N.
Uxbridge, ON L9P 1E6
(905) 852-3184

Windsor
Glenwood United Church
1825 Grand Marais Road West,
Windsor, ON N9E 1E9
(519) 969-3333

Québec

Québec
Canadian Bible Society – Quebec Office
1025, rue Saint-Jean
Québec QC  G1R 1R9
ALBERTA
Edmonton
Bethel Lutheran Church
298 Bethel Drive
Sherwood Park, AB T8H 2C5
Organizer – Marilyn Jansen
(780) 467-7412 / (780) 417-7775
Hours: Mon – Thurs 8-4 / Fri 8-3
MANITOBA
Winnipeg
Canadian Bible Society – Winnipeg Office
952 St. Mary's Rd
Winnipeg, MB R2M 3R8
(204)257-8835 / (855)265-9977
ONTARIO
London
Organizer: Charles Lee
705 Wonderland Road N. Unit 3
London, ON N6H 0H8
(519) 435-1885
Toronto
Canadian Bible Society – Toronto Office
10 Carnforth Road
Toronto, ON M4A 2S4
(416) 757-4171 / (800) 465-2425
Uxbridge
Brian J. Evans Financial Services
38 Toronto St. N.
Uxbridge, ON L9P 1E6
(905) 852-3184
Windsor
Glenwood United Church
1825 Grand Marais Road West,
Windsor, ON N9E 1E9
(519) 969-3333
QUEBEC
Québec
Canadian Bible Society – Quebec Office
1025, rue Saint-Jean
Québec QC G1R 1R9