Read more stories in the word@work newsletter.
Your gifts are changing lives
"I am so thankful to Him that I am here, alive, and for the Bible I received."
We're grateful for Canadian donors like you who are helping to ease the suffering caused by the war in Ukraine. With your generous help, we are distributing 800,000 copies of Children's Bibles, New Testaments and a booklet filled with comforting Scripture passages.
"Thank you very much for coming. Very few people come to us," said one woman near the frontlines in Eastern Ukraine who was grateful to receive God's Word from the staff of the Ukraine Bible Society.
Your gifts have also made it possible to support churches and organizations who are providing emergency food, water and other supplies in Ukraine and among refugees in Poland, Hungary, Moldova, and Romania. Together with our partners, we're also laying the groundwork for the trauma healing and counselling ministries that will be needed in the region for years, whatever the course of the conflict.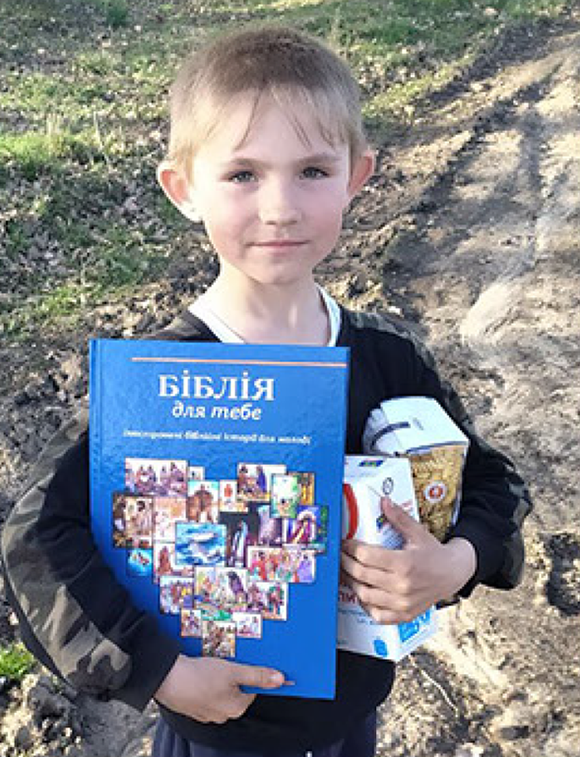 Already, your gift of God's Word is bringing comfort and changing lives in Ukraine. "After I experienced all the horrors of the war, God opened Himself to me," says Artem, a Ukrainian soldier. "I am so thankful to Him that I am here, alive, and for the Bible I received."
Thank you again for helping to meet immediate needs and providing the healing, comfort, and hope of God's Word to hurting people. Please continue to pray for peace in Ukraine.
Help children hear God speak by sharing Children's Bibles.