The Word for Life Video Series
Where Scripture Comes Alive
An interview series with Canadian Christian Leaders.
In today's fast-paced world, as distractions pull us in many directions, the Bible is often the most overlooked resource that we have at our disposal. Church and ministry leaders are faced with the challenge of helping their congregations read the Bible, engage with it, find hope in it and understand it for themselves.
In this video interview series, we delve deeper into perspectives on the Bible as shared by Christian leaders and how it has influenced them over the years. We also hear about how they engage with the Bible and help their congregations and constituents stay connected to the Word to enrich their spiritual lives. Join us as Scripture comes alive!
The Word for Life Series: Where Scripture Comes Alive with Rev. Dr. Peter Holmes
Listen to Rev. Dr. Peter Holmes (Minister of the Congregation, Yorkminster Park Baptist, Toronto) as he reflects on his formative years growing up in the manse, pastoring his congregation and how the Bible is an invitation into a deeper relationship with God, the Creator and the artist.
The Word for Life Series: Where Scripture Comes Alive with Bishop Jenny Andison
Listen to Bishop Jenny Andison (Rector, St. Paul's Anglican Bloor Street) as she reflects on her early years in Pakistan and India, her parents' influence and about how she engages with the Bible today.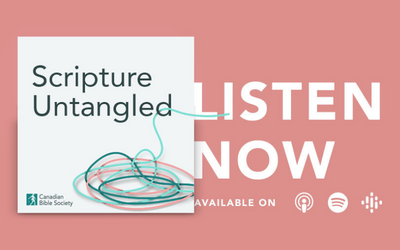 Scripture Untangled Podcast